Being based in Singapore the hub for S.E Asia means you are so spoilt for choice when it comes to selecting your next family vacation, with so many tropical destinations available at your doorstep most within a 1-3hr reach by air or sea. One of these destinations is Nikoi Island, a favourite amongst local expats and after a recent stay I can now understand why.
The best way to describe Nikoi Island is barefoot luxury with a Robinson Crusoe look & feel. Yes that means leaving those thongs at the villa upon arrival and only putting them on again when you unfortunately have to leave.
Getting to Nikoi Island is easy although it might sound like a bit of an adventure! Located on the other side of Bintan Island which is part of Indonesia, you depart Singapore and clear local immigrations and then hop on a one hour ferry ride, followed by a road trip ( aprox 50min) across to the other side of the island followed by the final leg a quick Speedboat ride to the Island all under 2 and a half hours.
As soon as you arrive the true "en plein air" style of the local Indonesian architecture style becomes apparent resting carefully on the landscape when and where necessary.  This  has all been carefully orchestrated by the owners of the private island to support the local eco life with monitor lizards walking around freely and going about their own business. You may even spot one like we did resting on one of our upper villa beams peering down to see what we funny humans are doing. While the adults go about finalising the paper work and enjoying a cool welcome drink the kids are off discovering the beach until their hungry tummies lead them back to us.
Nikoi island caters to both families and couples so when it was time to dine we were led to the area which catered for younger families with the other dining area catered to couples of families with older children to create a harmonious balance for all. One can only say the food was stellar! You are provided with a set menu for both lunch and dinner for kids and adults alike. Harley the supervisor is happy to discuss the meals and possible alternative options if something doesn't tickle your tastebuds. Portions are kept small so that there is little to no waste. Don't think for a minute you'll leave the table hungry as you can definitely ask for more like we did on several occasions as it tasted so good! Now if your little ones tummies are hungry in-between meals just ask staff to prepare them a little snack otherwise I would recommend ordering a delicious banana smoothie, certainly the best I've ever tasted. If you're travelling with an infant who has started eating solids check what they can cater for otherwise best to bring your own.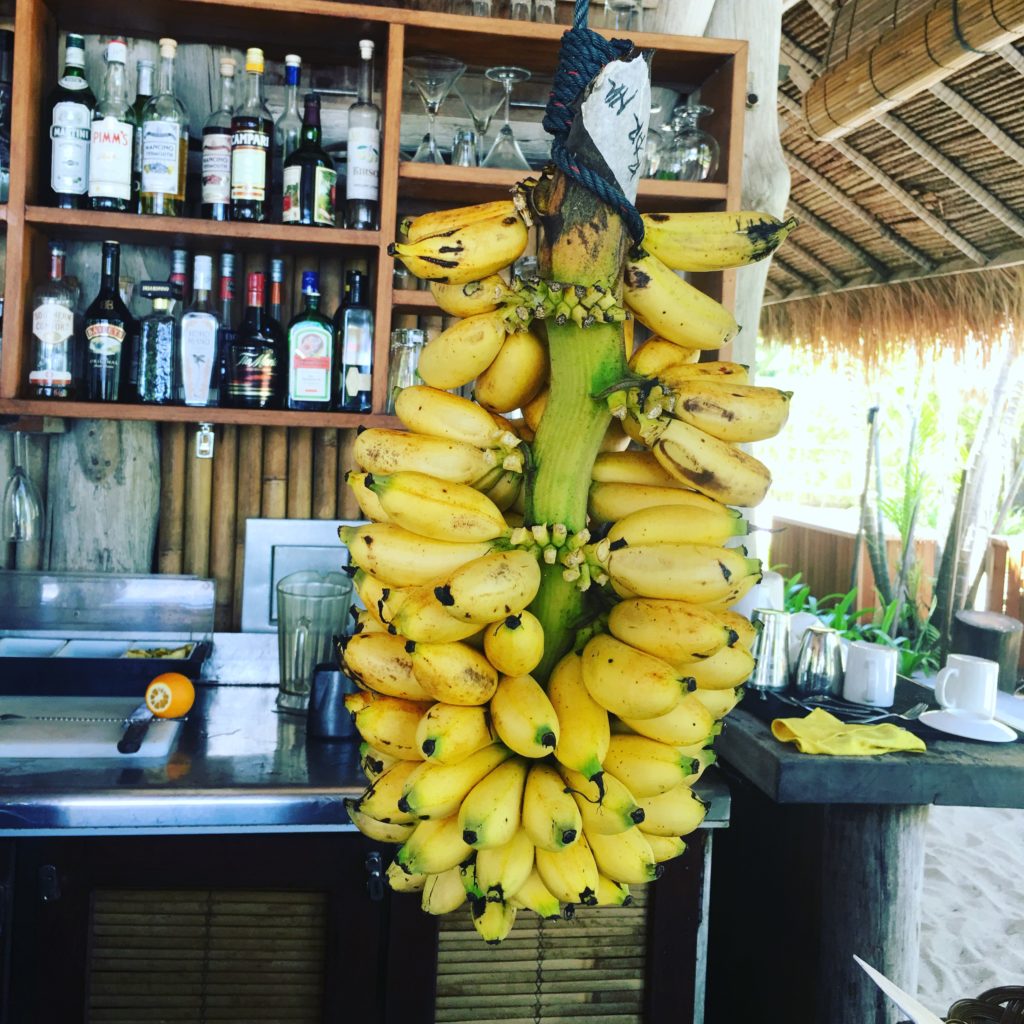 Feeling hungry?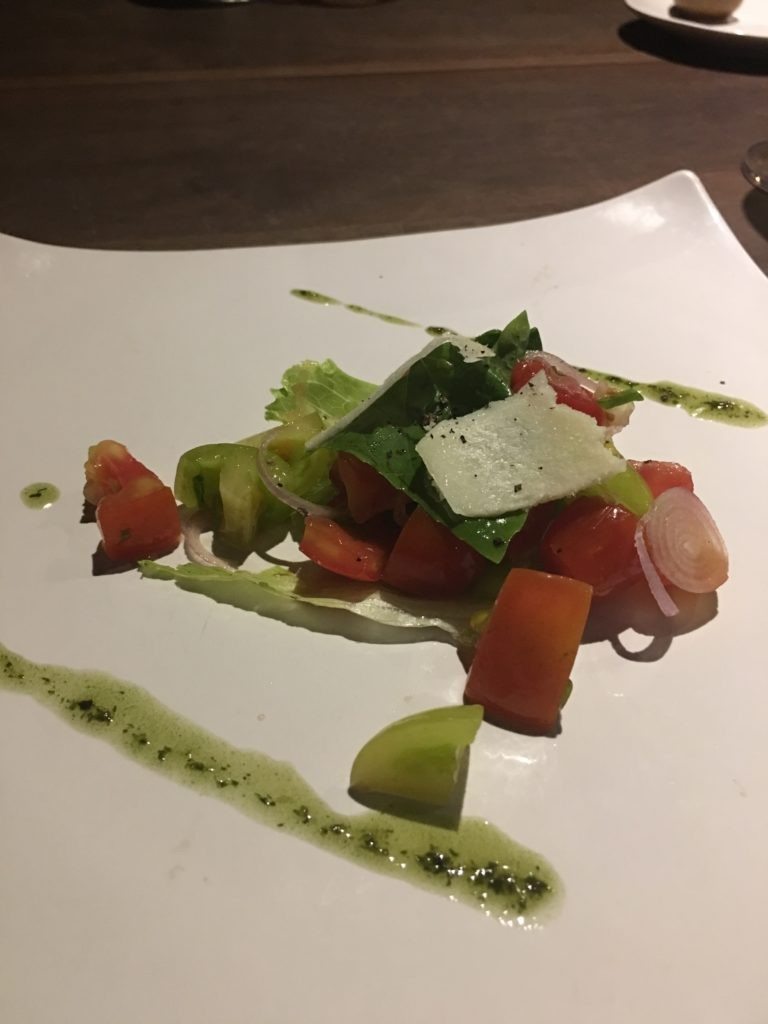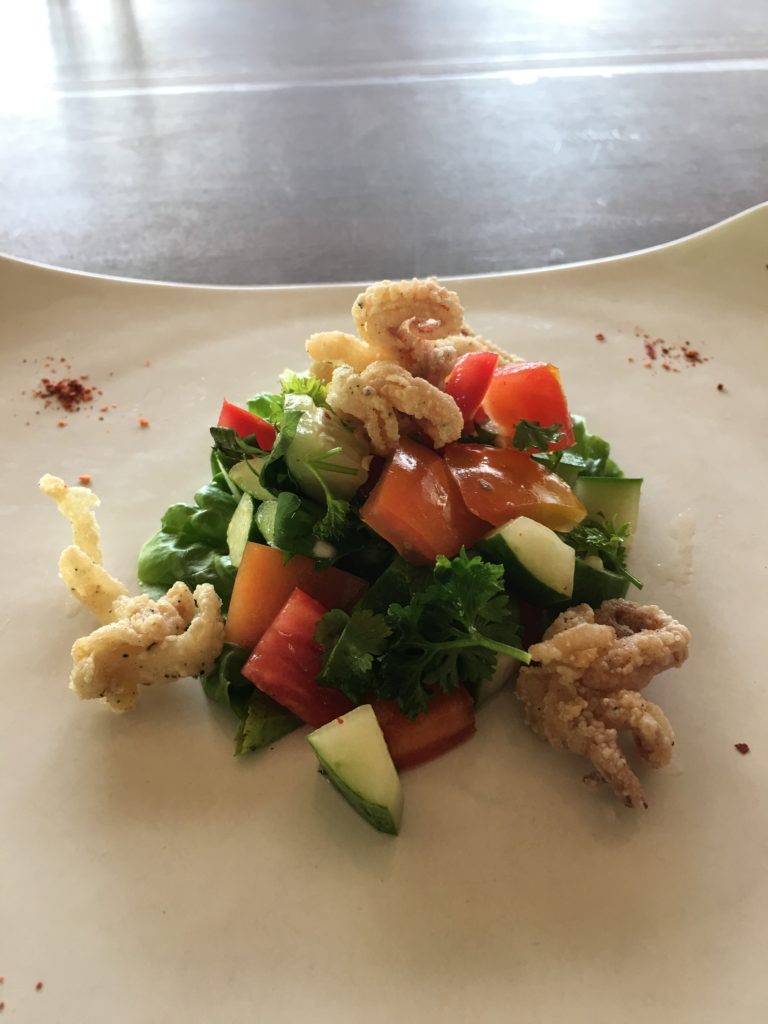 Fun for Kids
In the past I'd often narrow my search criteria to make certain there was some sort of kids club available but was always disappointed with what was on offer and our kids had more fun with us, hence we arrived on Nikoi Island with no expectations. I can only say our kids loved it! There's a daily activity board and kids can join activities as they please, all of which take place outdoors. My son loved fishing so any opportunity he could sink a line he was off. Evenings are spent roasting marshmallows and watching a movie while parent have the change to enjoy dinner. What I loved the most is apart from the movie there are no televisions and although wifi is catered for the iPads were left at home and weren't missed for one moment. If your kids are old enough to swim they must jump off the pier!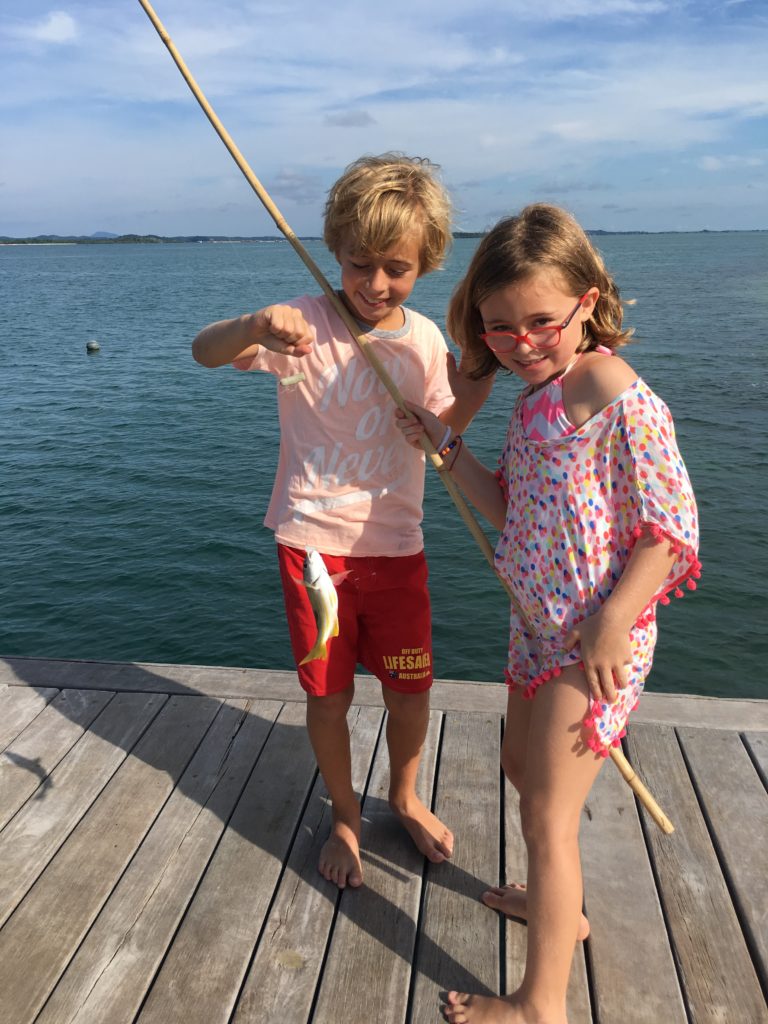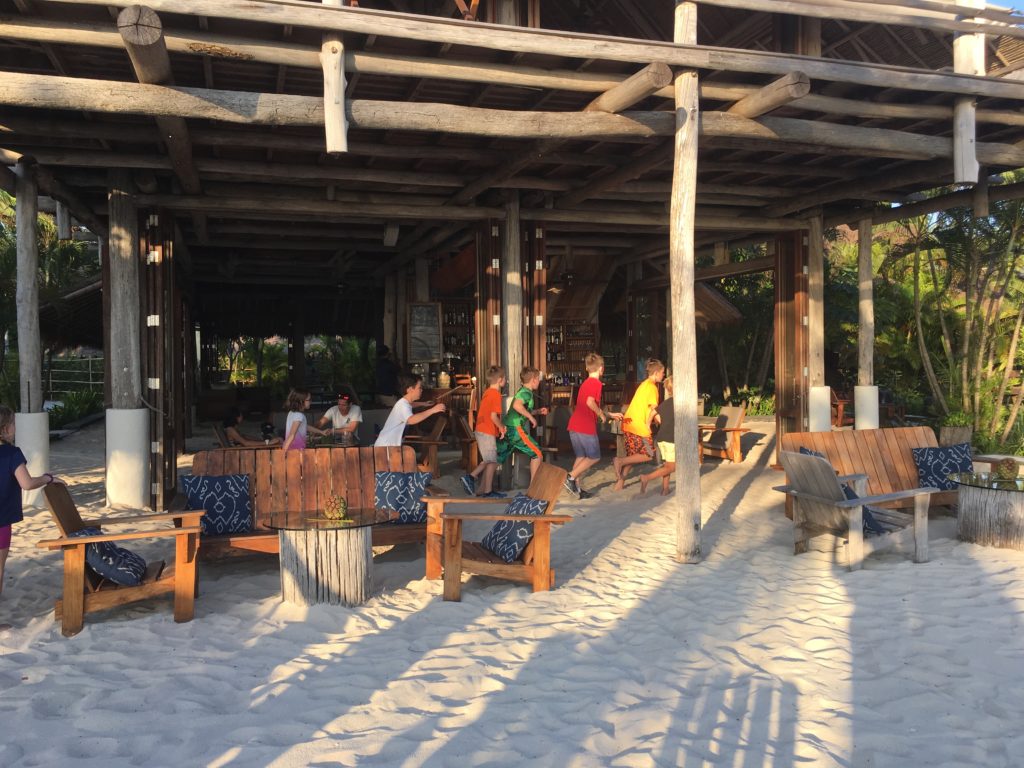 Other fun activities for both children and parents to enjoy is the tennis court on real grass ( requires hourly booking slots), a plethora of water activities which also includes a water trampoline. However one of our favourites was the saltwater pool nestled in amongst large stone boulders an oasis!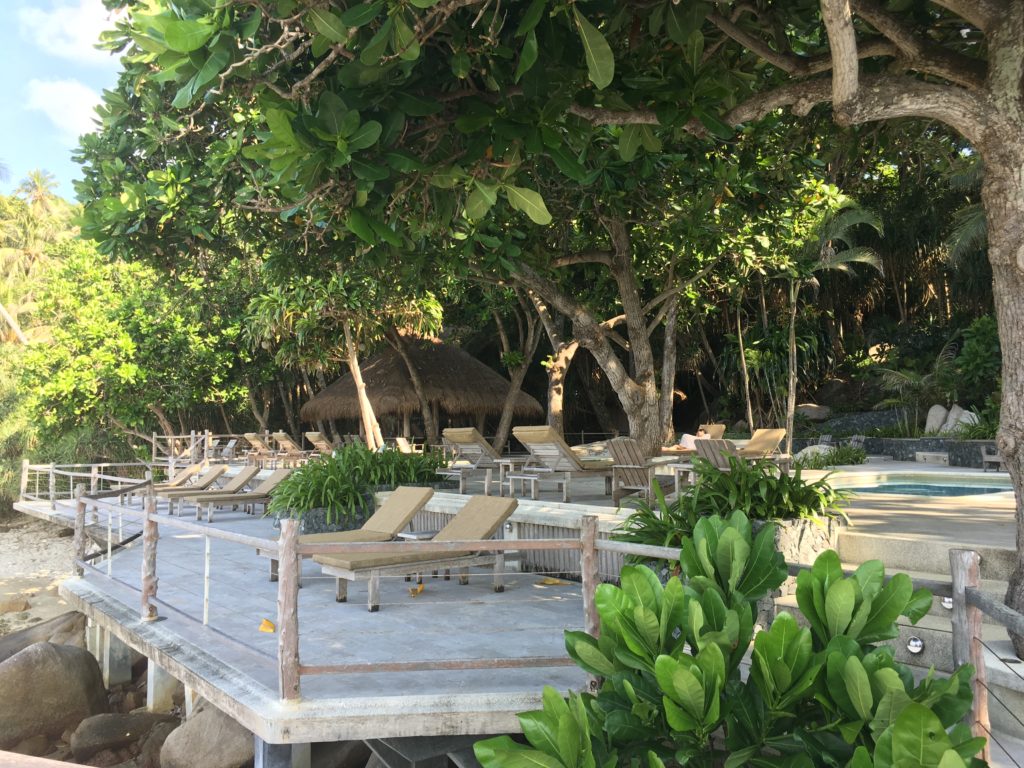 Once you've reached the pool you can go off wandering past rock pools and mangroves at low tide and head into the jungle for a lovely walk.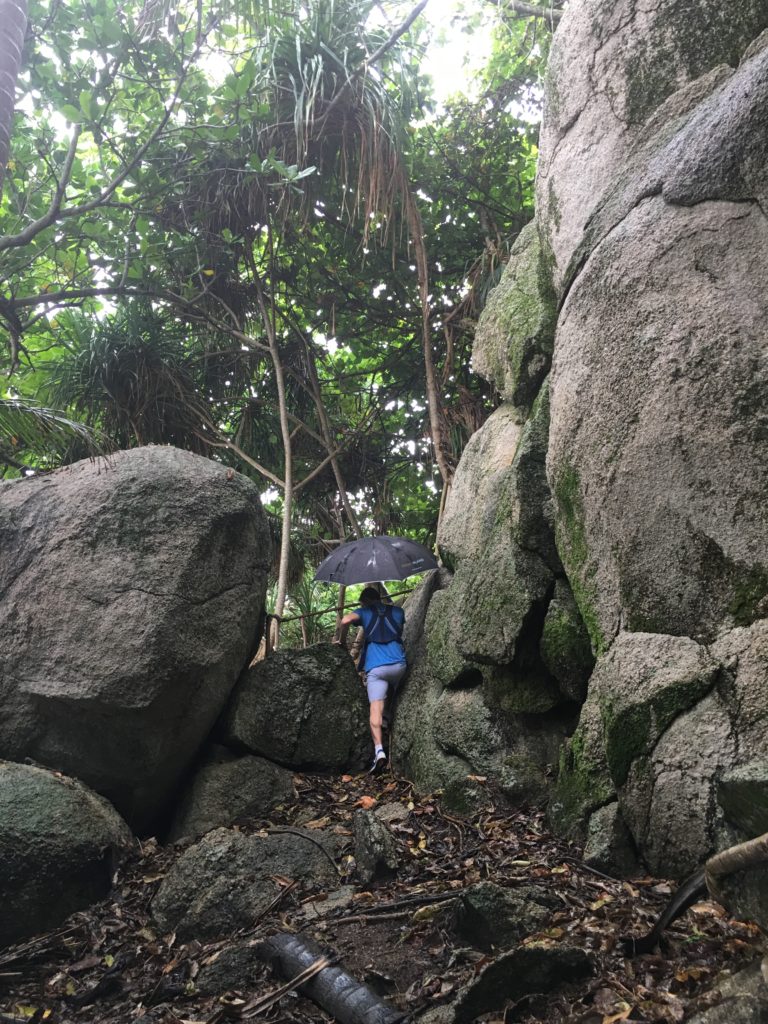 Want to relax?
The whole stay is relaxing but if you feel like a bit of pampering then head to the glamping tent. Here daddy and the little one are enjoying an adult and kiddy massage. Prices are fair for kids massage at $30 SGD for 30 min.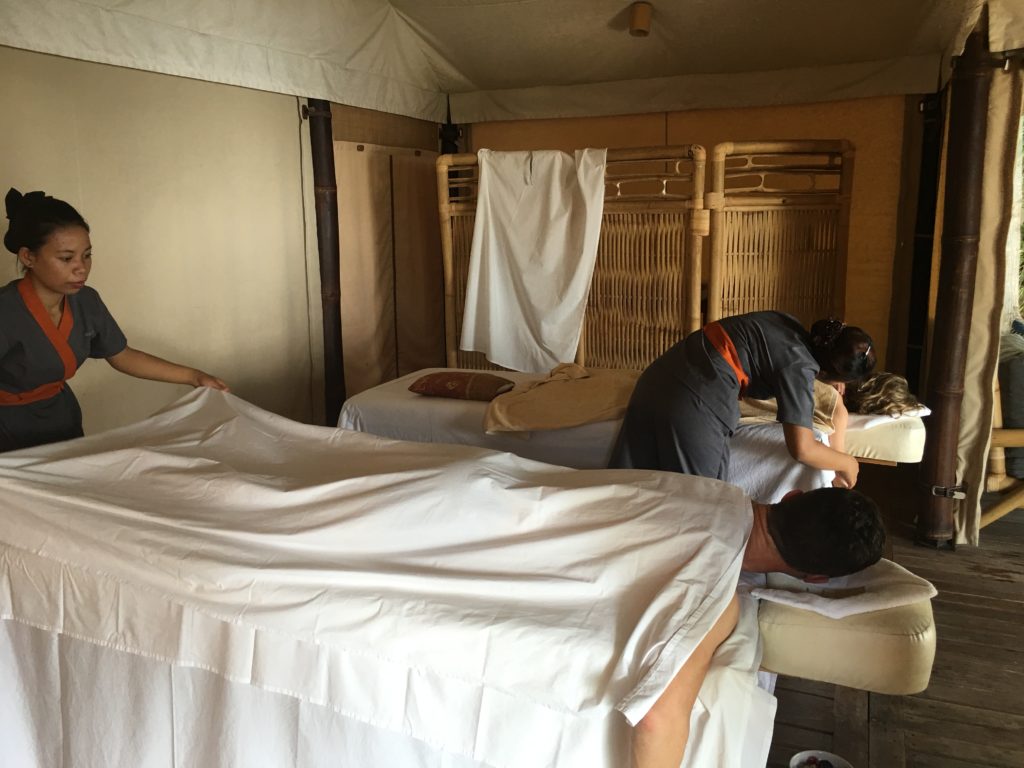 Our Villa
We opted for a 1 bedroom villa with bunk room. In the end both kids ended up sleeping on the daybeds with us. The daybeds are not full length but were suitable for our kids aged 7+9 years. It really depends on the children if they feel comfortable being in a seperate space to you. No air conditioners are fitted in the room which didn't worry us as we slept with doors to the deck open and fell asleep listening to the waves crash against the shore.
Staff
The attentiveness of staff was fantastic. I can only commend Nikoi for this. Based on other resort experiences it can either be underwhelming or overwhelming. To give you an example we couldn't put our baby in a high chair so instead they offered us a giant beanbag. Now that's thinking outside the box!
Additional tips for your stay
Booking your stay can only be done via the Nikoi website, so no need to waste time and look elsewhere for a better deal.
Most bookings include room only and do not include the full board
Full board is compulsory and will be reflected in your final bill on the island. For exact costs refer to the Nikoi website.
Although the board costs are shown online in SGD the cost will be in Indonesian Rupiah when your bill is settled.
Once you have received your confirmed booking from Nikoi Island you then need to select your ferry ride from Singapore to Bintan Island return and advise Nikoi of your arrival time
Worth packing some snacks for kids and boredom busters for the journey to and return as well as some snacks in-between meals if you have fussy eaters.
Nikoi island uses Singapore plug outlets not the two teeth outlets used in the rest of Indonesia or Europe
Bring mosquito repellent
If you are travelling with an infant the portable dining chairs are best suited for older infants and toddlers not suitable of 6month old like ours.
An inbuilt esky is located in your villa so best to get it filled up with ice upon arrival so you can store your BYO drinks in there and keep any other things cool as your room isn't fitted with a bar fridge.
We travelled with a babyzen stroller for our 6 month old as well as a cozigo which we placed over the pram to keep the mosquitos away although it must be said when we were there, there were no issues with these little pests. We found the stroller handy for sleeps around the island but I wouldn't recommend pushing these around in the sand from one end of the island to the other.
Our son brought his own soccer ball the same can be done if you prefer to bring your own tennis rackets or snorkelling gear although the equipment they have is great.
Cocktails are great especially the frozen margaritas and Mojitos!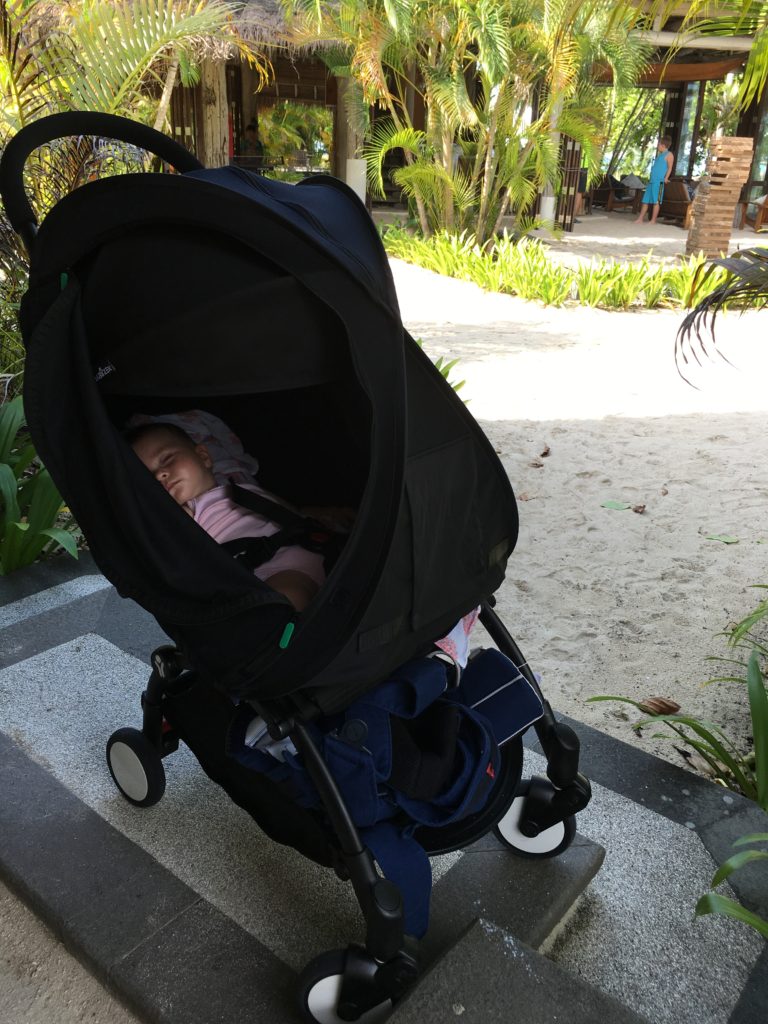 What we though was missing
We would have preferred to see the full board reflected in the initial booking payment with only additional items consumed on the island reflected in the final bill
Drink service by the beach.
A picnic basket/eski filled with some essentials – a chilled glass bottled of water & glasses, face spray and sun cream to make the beach stay just that extra bit more enjoyable.
The arrival greeting and helpfulness getting through customs etc could also be offered on the return leg. We were dropped off with the car and then made our way into the main terminal. No one was there to let us into the Nikoi lounge which you are able to use on your return leg as well.
Bed sheets were clean but had various stains on them which I wasn't a fan of and had replaced.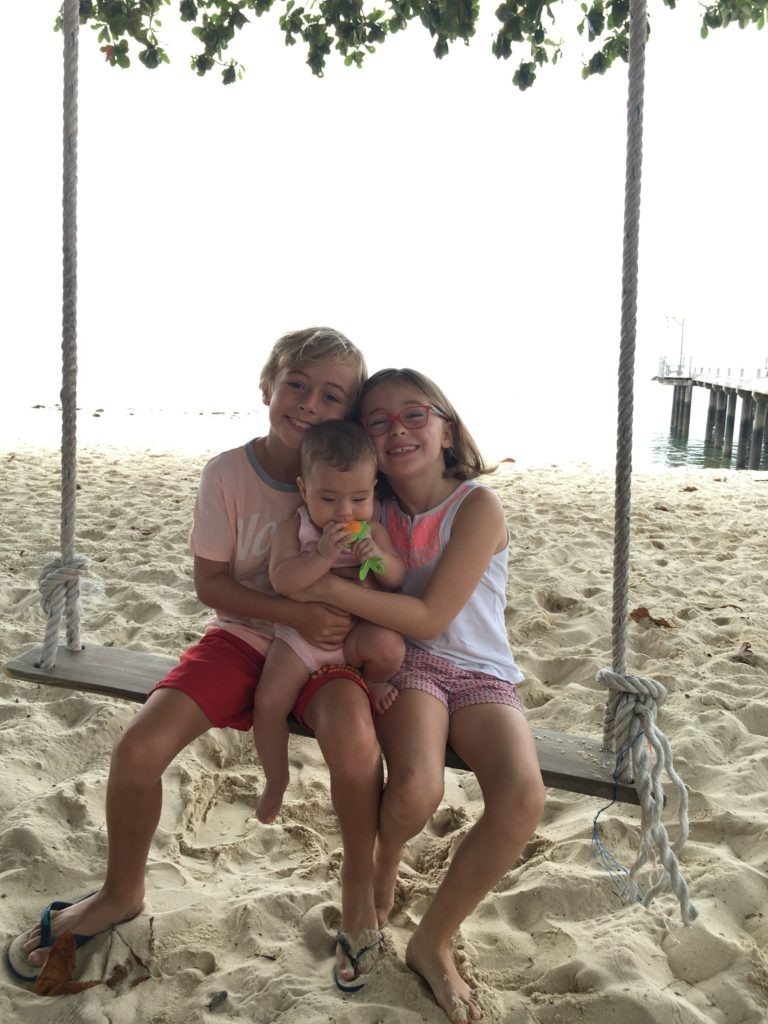 Our stay
We stayed for 3 nights 4 days and had a wonderful break with our friends. Even after a short break we felt we had seen and tried everything that we wanted to experience so although our son ( all of us really) would have preferred to stay longer you will leave the island feeling refreshed reflect on a wonderful family holiday.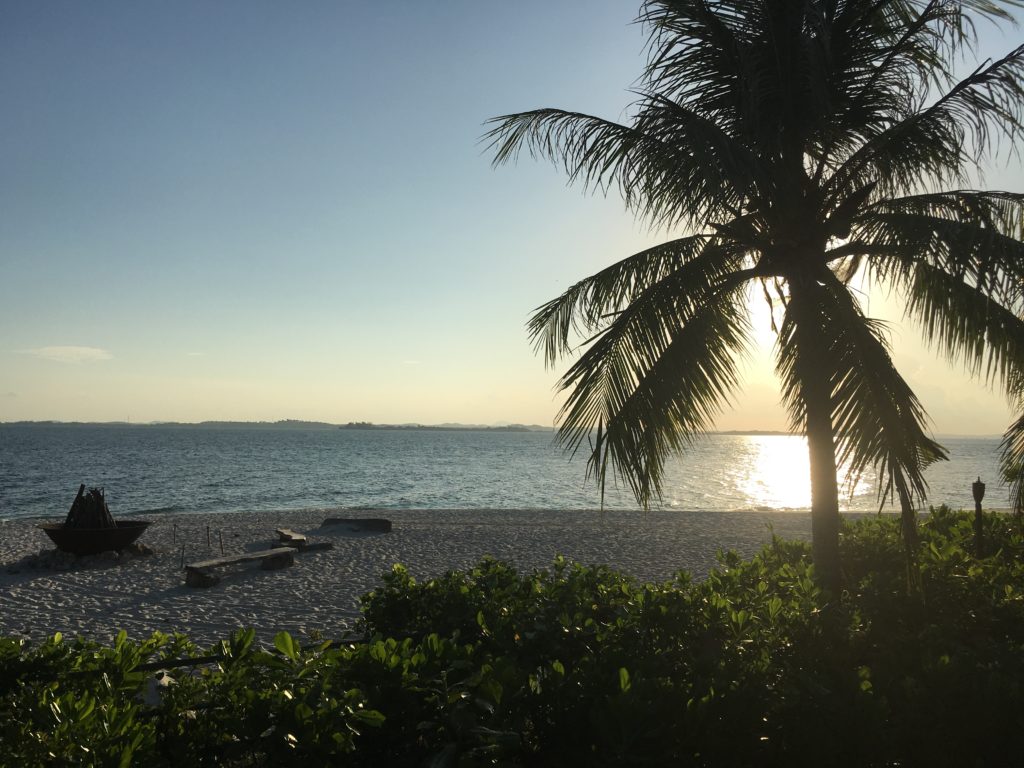 Singapore's Tanah Merah ferry terminal
Hope you enjoyed what you read, if you have any additional thoughts or comments that you'd like to add please do!
Thanks
Bronwyn xx